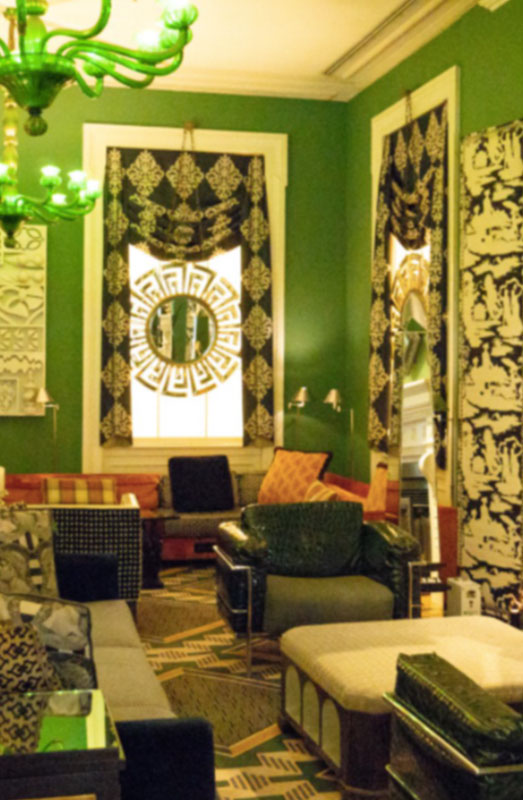 Scentscaping
Smart Meetings Magazine
Mid-Atlantic 2019 // Hotel Monaco // Washington, DC // June, 2019
"I have to be honest with you about the scent…this morning the room smelled of fish when we arrived for set-up. We could not be more thankful Scentex is here. Not only does it smell fresh and inviting; the dinner that was served last night lingers no longer"
– Michele Gardner-Kelley, Event Director of Smart Meetings Magazine
Client:
Smart Meetings is the leading meetings industry publisher and voice of inspiration for meeting professionals. They inspire their audience to dream big and create brilliant experiences that delight attendees, achieve desired results, and elevate the impact of the meetings industry.
Challenge:
In 2019, Smart Meetings held their Mid-Atlantic event inside the Paris Ballroom at the Hotel Monaco in Washington D.C. Roughly 150 planners and suppliers from the region attended the event and spent the day meeting "speed-dating style" at two-person tables set up throughout the space.
Knowing that attendees would be rapidly moving through the space throughout the day was one challenge Scentex had to take into consideration. The other was the venue itself.
The Hotel Monaco was built in 1847 and was the first United States Post Office. The architect fashioned the building off of Roman antiquity and favored vaulted ceilings with medallions, domed alcoves, and ornamental plaster. And while it's a truly stunning venue, its age and the humid nature of the D.C. environment have left it smelling old and musty.
Scentex's goal then was to overcome the old building's mildew smell and provide attendees with a lively, dynamic, warm space to interact and gather.
Solution:
The client chose an herbal, fresh, and clean fragrance composed of tulip, apple blossom, lily of the valley, and white musk. Then, the Scentex team got to work strategically installing the diffusers throughout the space, keeping in mind how attendees would move throughout and use the space.
Results:
This was the first event Smart Meetings hosted that incorporated fragrance into the meeting environment and the results were phenomenal. In fact, they were so pleased with the outcome they asked Scentex's founder, Tiffany Rose Goodyear, to speak to their attendees about the fragrance and the importance of incorporating scent into their events.
Scentscaping
Smart Meetings Magazine
National Conference // The Broadmoor // Colorado Springs, CO // October, 2020
"This was the first event we produced after 8 months of COVID lockdown. The addition of Scentex created an extra feeling of comfort for our participants."
– Marin Bright, CEO of Smart Meetings Magazine
Client:
Smart Meetings is the leading meetings industry publisher and voice of inspiration for meeting professionals. They inspire their audience to dream big and create brilliant experiences that delight attendees, achieve desired results, and elevate the impact of the meetings industry.
Challenge:
This three day, outdoor event at The Broadmoor was one of the most challenging we've had to-date. Smart Meetings Magazine was hosting this thrice-rescheduled event during the height of the pandemic. Our goal was to show these professionals how to do in-person events safely and effectively. Everything from seating to catering ensured that all attendees maintained a safe distance from one another and followed all state and CDC guidelines. However, that also meant that every single guest was masked and outdoors, adding a whole new challenge to our job.
Solution:
The registration was our first scented experience. There, guests were greeted with a fresh and natural aroma made up of lemon, bergamot, cardamom, rose, thyme, musk, cedarwood, and guaiac wood. They also received a cocktail and state-of-the-art wristband that notified them if they were getting too close to another individual.
From there, guests moved on to the outdoor space where the event was being held and we were there to welcome them with two complementing fragrances. First, a cinnamon apple aroma that added to the intimate (but safe) lounge vibe. Second, a cornucopia of familiar fall scents like pumpkin, acorn, and cinnamon with a light vanilla base. The dynamic interaction of these two fragrances mixing in the air (and controlled carefully by our on-site staff) enveloped guests and brought the entire experience to a whole new level.
Results:
Despite all the challenges we were up against, guests were more vocal than ever about the fragrances we chose for the venue and the overall scent experience. Our clients especially loved this because they could inadvertently ensure all of the guests arrived with their sense of smell intact and likely COVID-free. All-in-all it was a highly successful experience that helped guests and staff alike feel a sense of normalcy during an extremely abnormal time.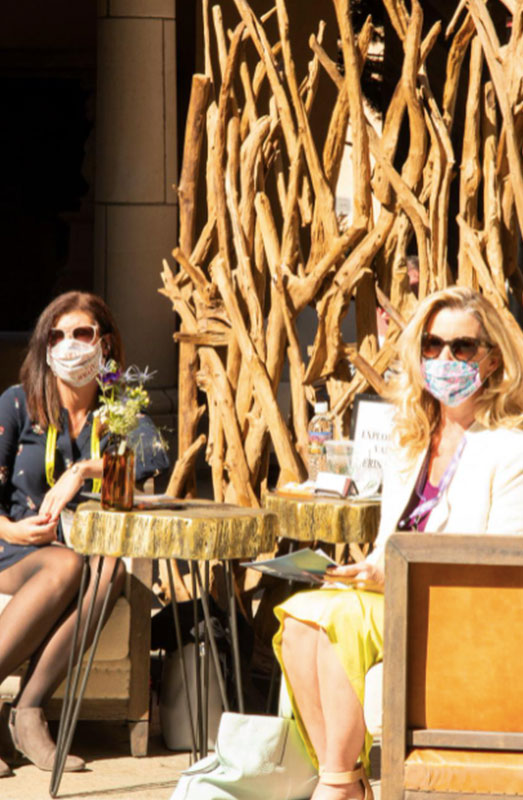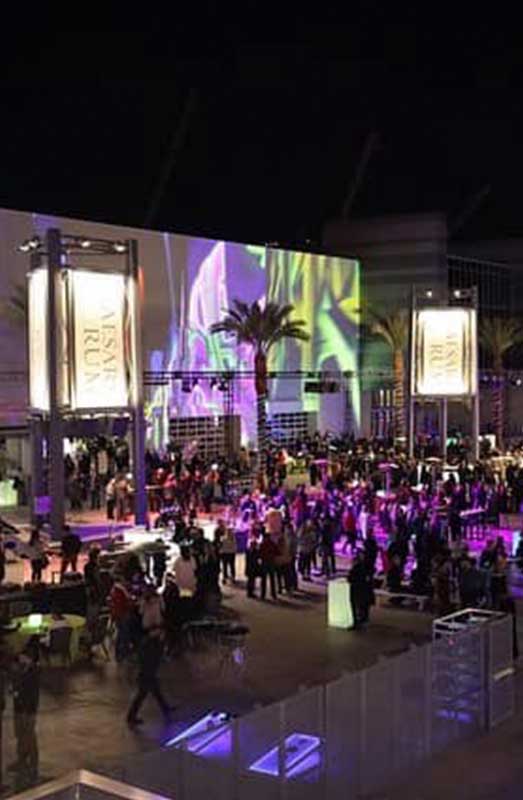 Scentscaping
PCMA Convene 2022
Opening Party, Lounge, General Session // Caesars Forum // Las Vegas, NV // January, 2022
"The feedback was tremendous!" Adding scent set the event apart and we look forward to collaborating with Scentex in the future"
– Reina Herschdorfer
Client:
Caesars Entertainment was looking to wow at PCMA's 2022 Convene. PCMA is recognized as the world's largest, most respected, and most recognized network of business events strategists
Challenge:
As the hosting sponsor, Caesars Entertainment wanted to give the leaders of the event industry an experience unlike any other. And they knew in order to do that they would have to stimulate guests in new and exciting ways.
Solution:
Caesars hired Scentex to implement Scentscapint and their Design Your Diffuser Interactive Station for their most important interactions with the audience. Scentex scented the Caesar's Lounge, the entrance to the opening night event, and each morning at the general session.
Results:
Every scent activation added an intimate level of interaction with each guest. Audience members raved about the atmosphere, sometimes without even knowing it was the smell that enhanced the atmosphere.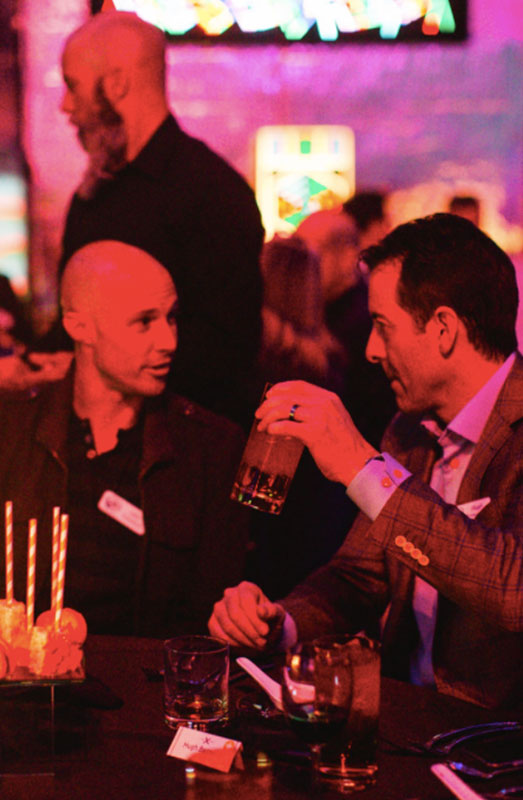 Scent Remediation & Scentscaping
Young Presidents' Organization
Effect of Sense // Lumonics Gallery // Denver, CO // January, 2020
"Sentology did such a great job at Lumonics for YPO's sensory dining experience. The carpeted venue stank of stale cigarettes during the walk-through. It was amazing what they were able to do in such a short amount of time!"
– Drew Irwin, Lumena Pod
Client:
Young Professionals Organization is a global leadership community of chief executives driven by the shared belief that the world needs better leaders. Every quarter the Denver Chapter hosts an event dedicated to educating and engaging members. This particular event was held at Lumonic, a fabrication studio and art gallery focused on light sculpture.
Challenge:
The event was called Effect of Sense and led guests through a curated sensory experience, focused primarily on touch, taste, audio, and visual elements. Our job was to manage the scent, which we knew right away would be a challenge. As soon as we set foot in the space, we could smell mildew, dust, and cigarettes. So first, we had to neutralize the atmosphere. Then, we needed to create fragrances that would complement the culinary-focused event.
Solution:
The first step we needed to take to create a pleasant scentscape was odor remediation. Using a custom formula of industrial deodorizer, our fragrance technicians installed numerous diffusion machines throughout the space. The noisome scent that permeated the air and carpet was captured by the molecules and two hours later the room was completely neutralized. With a blank canvas, we got to work. We chose two fragrances: one for the guests' arrival and another for their departure. Because the culinary experience was the focal point, we ensured that each fragrance complemented the welcome cocktails that were being served as guests arrived. The light citrus fragrance was inviting and expressed notes of bergamot, orange, grapefruit, asian pear, and amber. Then, during the dinner and keynote speaker, the power of the scent was significantly decreased, to ensure it didn't battle or overpower the cuisine. At the end of the evening, we sent guests off with a calming and gentle fragrance made of the purple saffron flower, patchouli wood, and white suede — a perfect fragrance for winding down.
Results:
Despite the challenges that we were faced with in the beginning, the event was a major success. Not only was there no trace of the original stench that first welcomed us to the space, but the scent we created was also the final necessity to create a truly immersive and enjoyable experience for the guests.
Scentscaping
Ashley + Korey
Wedding // Cheyenne Mountain Lodge // Colorado Springs, CO // June, 2020
"Adding scent to our wedding was like adding magic. Scentex found scents that matched us and our story. It's like you could smell the love in the air.It was the special little detail that made our day even more special."
– Mrs. Ashley Hefferon
Client:
Ashley and Korey. Because of COVID and the unexpected passing of Ashley's mother, the couple had to move their special day not once, but twice. Luckily, the third time was truly the charm.
Challenge:
Like any couple, Ashley and Korey wanted their wedding to be a day unlike any other. But knowing how difficult the last year had been for the couple, we really wanted to go above and beyond and truly elevate the entire experience for them and their guests.
Solution:
For weddings, in particular, we always recommend choosing the fragrance after every other detail is finalized. That way we can use the decor, scenery, and even color palette to inspire the scent and ensure a truly cohesive and full sensory experience. For Ashley and Korey, that meant choosing fragrances that not only complemented the white florals in the bridal bouquet but also honored Ashley's mother, Debbie, whose favorite scent was lily.
For their special day, our team created two unique scentscapes. The first was right as the guests walked into the reception. There, they were enveloped with the fresh, summery scent of lily, hydrangea, dahlia, and rose. The clean and crisp floral fragrance created a refreshing atmosphere between the ballroom and terrace, where appetizers and cocktails were being passed around and enjoyed.
As dinner wrapped up, our team worked with the other vendors to transition the room for dancing. That's when we gently blended the first fragrance and introduced the second which was composed of lilac, hyacinth, jasmine, ylang ylang, musk, and oat moss. The combination was perfect for creating a lively, yet comforting atmosphere, equally suited for dancing and conversation.
Results:
Ashley and Korey's wedding was a huge success. With our help, not only were the bride and groom able to express their aesthetic in an entirely unique way, but they were also able to honor Ashley's mother in a way they'll remember for the rest of their lives.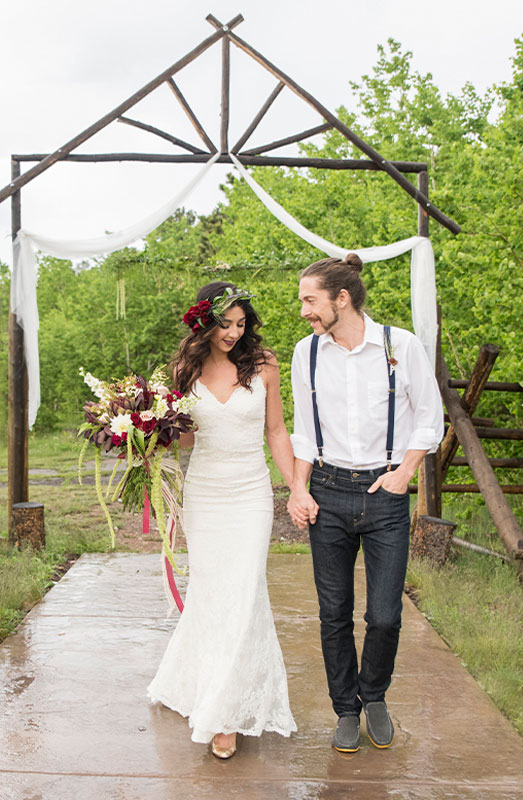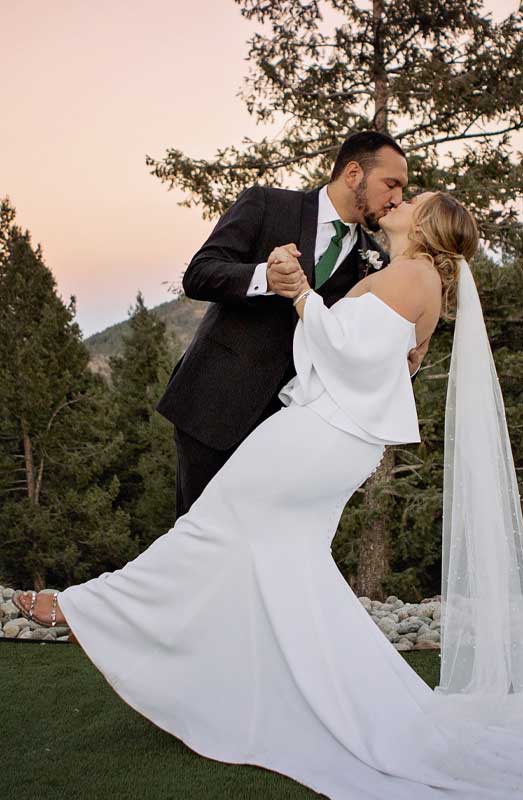 Scentscaping
Courtney + Phydell
Wedding // The Woodlands // Morrison, CO // November, 2021
"To this day people talk about the scent at my wedding and it makes my heart so happy!"
– Mrs. Courtney Paris
Client:
Courtney is one of those not-so-rare creatures that surrounds herself with scent in her everyday life. She was thrilled when she found Scentex to add fragrance to one of her most treasured special occasions.
Challenge:
Courtney and Phydell were interested in adding fragrance to their outside ceremony along with their inside reception. They wanted a fragrance that both complemented the beautiful scenery of the Rocky Mountains and created a comforting atmosphere that reflected the season.
Solution:
For the reception we chose a fragrance with notes of amber, white musk, black currant and mandarin. This fragrance wafted throughout the walkway as guests arrived and was strategically placed during their outside ceremony so the scent wafted on the gentle breeze enveloping the guests. We brought the second fragrance into the event after dinner service. This fall-inspired fragrance with notes of crisp apple, cinnamon, and other spices was the perfect addition to dessert and dancing.
Results:
The bride and groom were ecstatic with the addition of fragrance. The atmosphere was one of comfort and excitement. Having the addition of fragrance wafting through the dance floor created an added level of immersion to celebrate this family's love.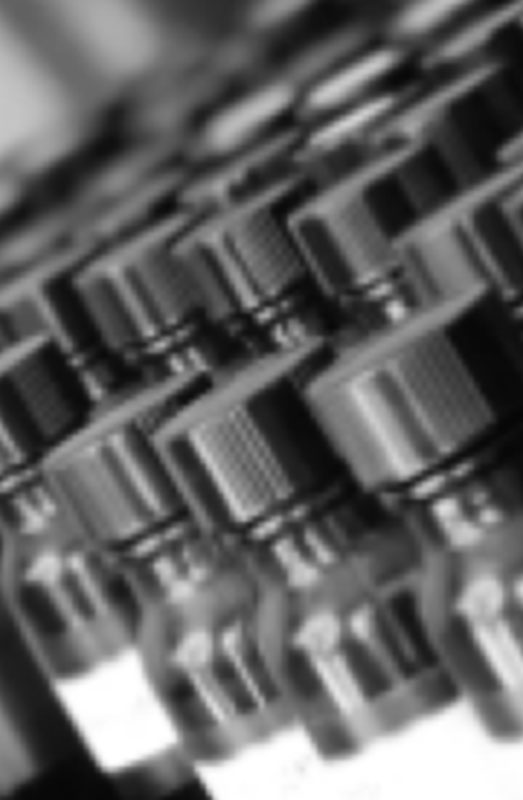 Virtual Event Scenting
Verizon Media
Team Retreat // Virtual // November, 2020
"Everyone just loved their packages. I received positive feedback about the fragrances. The participants were extremely thankful for the thoughtfulness of the experience."
– Samantha Tarin, Verizon Media
Client:
Verizon Media has an internal team of dedicated event planners that oversee all of their events, from internal training to launches and incentive travel. For this particular event, we worked closely with their marketing events manager.
Challenge:
Verizon wanted to move what had traditionally been an in-person educational event into a virtual event experience. However, they also wanted to maintain engagement with their audience and create an experience that resembled an in-person meeting as much as possible.
Solution:
Our team created a virtual event solution by using reed diffusers filled with a client-chosen fragrance that was reminiscent of a crisp fall day. They were mailed to each and every participant prior to the meeting, in a kit that also contained a pecan pie and a personalized note from the host.
Results:
The reed diffusers were a big hit, with both the client and the virtual attendants. Plus, they did four very important and unique things. First, they connected the participants by creating a shared atmosphere they could all talk about, despite being miles and miles apart. Second, they transported participants out of their homes, into a cozy, yet refreshing autumn environment. Third, they very successfully broke the monotony of Zoom fatigue that we had all been feeling at that time amid the pandemic. And lastly, they engaged all five senses—much like an in-person event—which not only added engagement but also increased awareness and information retention.
Virtual Design Your Diffuser
RMC DMC
Hyatt Hotels Virtual Sales Retreat // Virtual // December, 2020
"With custom scent blending kits delivered to each client, they led a full virtual scenting class that was fun and engaging. The best part is that everyone has a fun way to remember the experience as they enjoy their custom scent within their home offices."
– Alex Lomas, General Manager of DMC
Client:
RMC DMC is North America's largest privately-owned destination management company. They work with distinguished corporations and high-level executives to produce completely tailored destination services, premier events, and exceptional programs—from the peaks of Aspen to Napa's famous vineyards.
Challenge:
During the pandemic, RMC was eager to stay connected with their top clients and venues, despite all the limitations put in place. Like all destination management companies, they pride themselves on their relationships with their event partners and really depend on them to refer their services to potential clients. That's where we came in. RMC tasked Scentex with creating a virtual scent experience for one of its most important partners—Hyatt Hotels. So we not only needed to impress RMC but the team at Hyatt Hotels as well.
Solution:
To create an interactive, team-building, beautifully scented experience, we did something entirely new and unique. We created a custom, DIY diffuser kit that each guest received in the mail, along with a complementing dessert. Using Zoom, we led the team step-by-step through the process of creating their very own scented diffuser. Each participant was given nine scents—three "base notes" (the heaviest scents), three "heart notes," and three "top notes." Using emotional prompts to guide them, participants then blended their selections together in a diffuser that already had the carrier and alcohol in them. Then, they simply added the reeds, and voila! They had their very own, self-curated reed diffuser, which they named and then shared with the group.
Results:
The guests were completely enthralled with the entire experience—from the kit and materials to the live instruction from our fragrance expert. They were thrilled to share such a unique, connective, and engaging experience during such an isolating, restrictive time in the world.